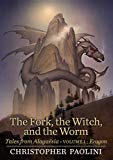 Eragon: Inheritance Book One

by Christopher Paolini

Eragon, a young adult fantasy novel, is the first book in the Inheritance Cycle. It tells the story of a young boy named Eragon who hatches a dragon, Saphira, out of a mysterious stone he finds in the woods. Eragon bonds closely with Saphira and becomes a dragon rider, drawing the attention of the evil king Galbatorix, who sends his servants, the Ra'zac, to kill him. While escaping from the Ra'zac, Eragon and his mentor Brom become embroiled in plots against the evil king.