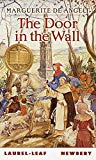 The Door in the Wall

by Marguerite De Angeli

The Door in the Wall is a 1949 novel set in Medieval England. Young Robin is to become a knight like his father but is crippled by an illness. Abandoned by various doctors and servants, his brother Luke, who is a friar, comes to his rescue. Learning much from his brother, Young Robin eventually warns the castle of Peter de Lindsay of a Welsh siege and they are able to beat back the invading army. The novel delivers a strong moral of perseverance and determination in the face of adversity.