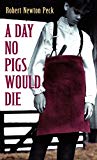 A Day No Pigs Would Die

by Robert Newton Peck

A Day No Pigs Would Die is the autobiographical story of Robert Newton Peck, a Vermonter born in the early 1900s, and his childhood during the Depression. The story follows Robert and explores his bond with his pet pig, Pinky. Eventually, economic necessity drives the Peck family to slaughter Pinky for meat, and Robert must come of age to cope with the trauma. The novel is a graphic look at the relationship between fathers and sons and men and animals.