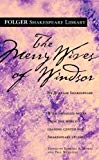 The Merry Wives of Windsor

by William Shakespeare

In the comedy The Merry Wives of Windsor, Sir John Falstaff decides to seduce two married women, Mistress Ford and Mistress Page, to get their husbands' money. The women don't fall for his plan and instead decide to trick him. Meanwhile, several men, including Dr. Caius and Master Slender, fight for the attentions of Anne Page, who is in love with Fenton. The comedy focuses on middle class characters and aims to show that wives can be faithful to their husbands while having some fun at the same time.