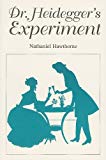 Dr. Heidegger's Experiment

by Nathaniel Hawthorne

Dr. Heidegger's Experiment is the story of the title character, a sage-like old physician who purports to have found the Fountain of Youth. He shares his discovery with four aging friends, then watches without surprise as they succumb to all the follies of youth before running off in search of the Fountain itself so that their new extended youths can last forever. Heidegger does not accompany them as he has accepted death.