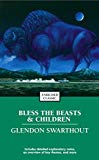 Bless the Beasts and Children

by Glendon Swarthout

Bless the Beasts and the Children is the story of six emotionally damaged boys sent by their parents to a rough and tumble cowboy-styled camp in Arizona. They grow close due to their alienation from the other campers, but their attempts to put an end to the barbaric local tradition of slaughtering tame bison in canned hunts, despite being an affirming coming of age experience, ends in tragedy. One of the boys dies in an attempt to spook the complacent bison into running and the others are quickly discovered.