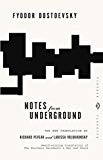 Notes from the Underground

by Fyodor Dostoevsky

Notes from the Underground is a novella by Fyodor Dostoevsky, divided into two parts. In the first part, the protagonist discusses his suffering, ennui, inactivity and criticisms of logic, society, ethics and human rationality. The second part of the novella describes his interactions with Liza, a prostitute, to whom he describes her future of destitution. Liza comes to visit him but he rudely dismisses and insults her, ashamed at his own squalid apartment. He is neither able to act like the rest of society nor act better than it.