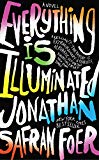 Everything Is Illuminated: A Novel

by Jonathan Safran Foer

Everything Is Illuminated is a novel about a young Jew name Jonathan Safran Foer, who travels to the Ukraine to find a woman named Augustine who saved his family from the Nazis during the Holocaust. Jonathan meets a man named Alex, who becomes a translator and helps him. The book traces their journey to Trachimbrod, the shtetl his family came from, and incorporates magical narratives into the story of the village.