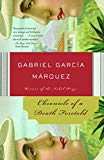 Chronicle of a Death Foretold

by Gabriel Garcia Marquez

Chronicle of a Death Foretold is a reconstruction of the murder of Santiago Nasar, put together from the memory of the narrator and the townspeople nearly 30 years after the event. The novella has a non-linear plot that jumps forward and backwards in time. Twin brothers Pablo and Pedro plan on killing Santiago, as he took their sister, Angela's virginity and disgraced the family. Angela is supposed to marry Bayardo San Roman, a wealthy man, who rejects her after learning that she is no longer a virgin.