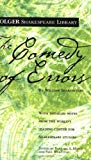 The Comedy of Errors

by William Shakespeare

The Comedy of Errors is a humorous play about mistaken identity. Identical twin brothers, with the same name, are separated at a young age, along with their twin slaves. The brother from Syracuse travels to Ephesus, where he is immediately mistaken for his twin. Although the play is funny, there is a vein of tragedy that runs through it. The twins' father is about to be executed. All works out in the end when the twins' mother reveals herself, saving her husband and revealing the identity of the two brothers.